Pietra Ligure is the ideal destination for MTB lovers, whatever the level or discipline.
At Residence Holidays bikers are at home and we love to have you as our guests!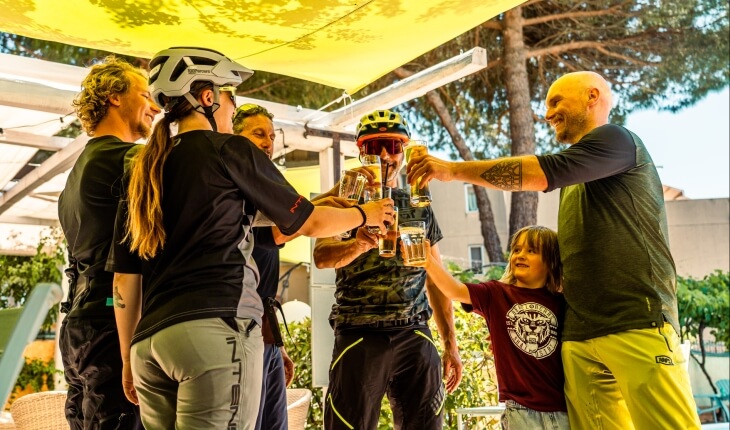 For this reason we have worked to provide the best services for a holiday of adventure riding your MTB but also made of relaxation and fun.
What services will you find in our Residence?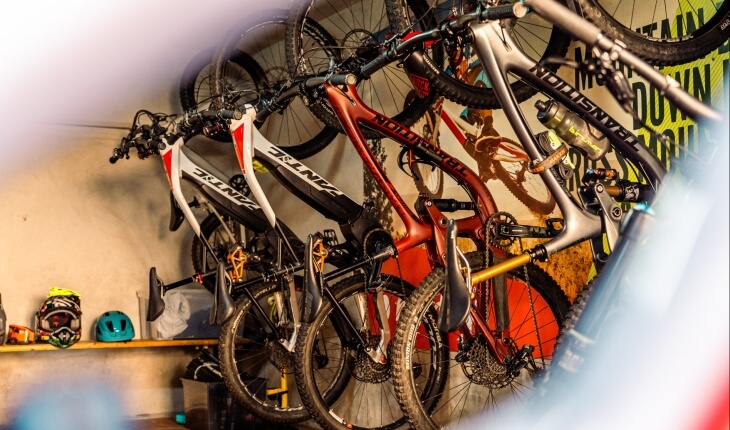 Many and even more, if you think about the commitment of our staff to meet your every little need.
Here you will find:
ample free parking for your car or VAN;
grarage under video surveillance for your bike;
workshop equipped for maintenance;
Bike washing area;
outdoor washing machine.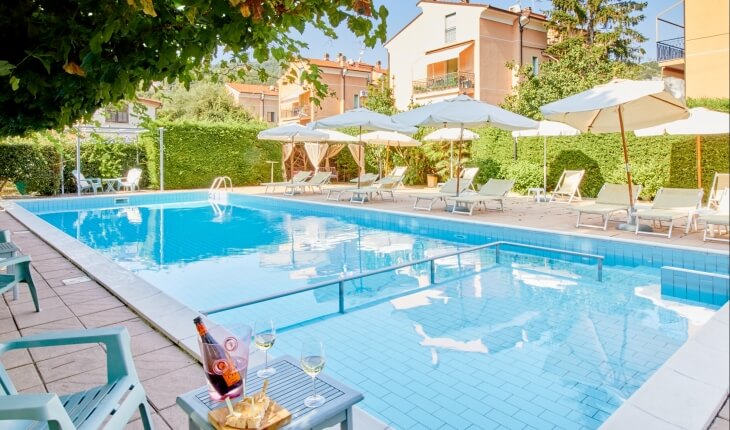 What if we talk about Relax?

All apartments are surrounded by greenery...
...the swimming pool, equipped with umbrellas and deck chairs, awaits you for a refreshing bath...
and our pool bar, with excellent beers and cocktails, for an aperitif in company and complete relaxation.
We haven't told you everything yet!

Staying at the Residence you will not have to stress to find where to rent a bike or a Shuttle for the lifts or a local expert guide.
We'll take care of everything!
You can rent your bike here at super advantageous prices.
Choose your bike, you will find it in the structure waiting for you.
E-bike 1/2 day: 40,00 €
Full day e-bike: 60,00 €;
Muscle MTB 1/2 day: 45,00 €;
Full day muscle MTB: 75,00 €.

Arrive at high altitude thanks to our Shuttle Service!
Choose between a single lift or a private shuttle for you and your group that follows you all day, awaits you at the end of the path and then take you back to the start of the next trail.
If you are a group of friends who know the paths of Finale Ligure and do not need a guide, this is the service for you.
BIKE SHUTTLE SERVICE
Single lift: 12,00 euro per person;
Half-day shuttle: 35,00 euro per person;
Full day shuttle: 55,00 euro per person.
Price for minimum 4 person.
Zero thoughts, maximum fun!
If you do not know the area, we recommend our GUIDES.
We have 3 GUIDES for each level.
The guide will choose the most suitable tour for you to enjoy the best possible experience.

GUIDE
Half day: 25,00 euro per person;
Full day: 40,00 euro per person.
Book a full tour!
SHUTTLE + GUIDE package: a great added value at a small price.
SHUTTLE + GUIDE
Half Day: 60,00 euro per person
Full Day: 70,00 euuro per person.
...and for your stay?

In our Residence you will find comfortable, modern apartments equipped with every comfort.
Our apartments have up to 6 beds, suitable for groups of friends with a passion for MTB and adrenaline.
Find the one that best suits your look and book now!
Discover the offer!
Prices refer to a minimum of 4 people.
For more information please fill in the form below.
Your adventure awaits you!