Breathtaking view on two wheels!
Cycling, mountain biking, e-bike... no other sport can offer so much freedom and opportunity to diversify performance.
These are the characteristics that make the mountain bike holiday an unforgettable experience.
The dream of every cyclist?
Enjoy a holiday in the finalese hinterland, the "Paradise" for mountain bikers and outdoor sports in general.

Every year, thousands of bikers from all over the world gather here to experience the thrill of the EWS slopes, but mainly because there are excellent well-maintained and equipped trails for bikers in a location that does not have and no equal.
Live your adventure on two wheels in the hills of Liguria!
Starting from 700,00 euro
Stay in apartment and 2 days of breathtaking descents along the most famous and adrenaline trails of Liguria.
You will have the opportunity to choose from numerous guided bike tours for all levels, with a shuttle service and a specialized guide who will take you along the most beautiful paths of our hinterland!
The level of difficulty of each bike tour will be established according to the composition of the group between medium, high and advanced and the duration will vary depending on the destination chosen.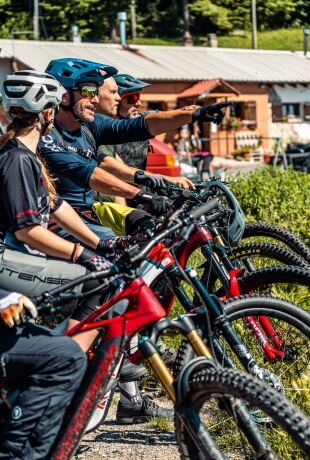 *7 nights in an apartment
Superior Studio (x 2 persons)
Modern apartment (up to 6 beds)
* consists of 2 full days of MTB riding with:
n° 1 Up Lift
Private Guide
Lunch break in place based on the tour (excluded)
* Possibility to rent bikes (directly in the structure) and protections (for a fee)
* Parking space
* Bike Room and washing area
* Bike Kit of Welcome
Discover all the services reserved for bikers.